Product Introduction
Product Number
Leave Your Message
Product Tags
Product Introduction
Winner brand O-ring face seal connectors / adapters meet and exceed ISO 8434-3 metallic tube connections for fluid power and general use – Part 3: O-ring face seal connectors requirements and performance. The pressure ratings are higher than ISO 8434-3.
O-ring face seal connectors are suitable for use with ferrous and non-ferrous tubes with outside diameters from 6 mm to 38 mm inclusive. These connectors provide leakproof, full flow connections in hydraulic systems operating from a vacuum of 6.5 kPa absolute pressure to the working pressures.
Both metric and inch tubing can be accommodated by changing the sleeve see catalogue sheet NB300-F sleeve for inch tube and NB500-F sleeve for metric tube. For new and future designs, the use of metric tubing is preferred.
They are intended for the connection of tubes and hose fittings to ports in accordance with ISO 6149-1.
O-ring face seal male end has different type connections with metric or inch tubing or swivel female end or hose fitting connectors, see below picture.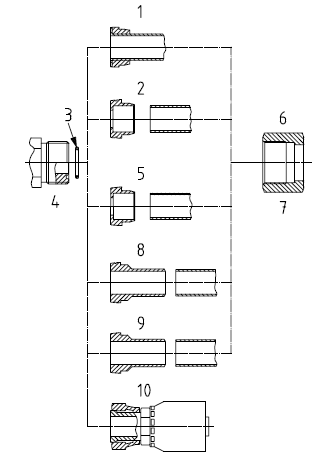 Key
1 formed tube – inch or metric tubing
2 braze sleeve for metric tube
3 O-ring
4 male O-ring face seal end
5 braze sleeve for inch tube
6 tube nut
7 tube nut with metric hex
8 weld-on nipples for metric tube
9 weld-in nipples for inch tube
10 swivel hose fitting
Below fig shown the typical connections with O-ring face seal connectors from hose fitting of hose assembly to port.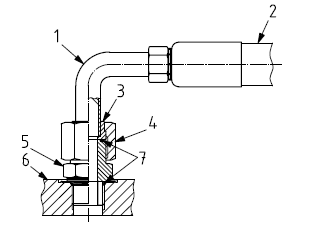 Key
1 bent tube hose end
2 hose
3 sleeve
4 tube nut
5 straight stud
6 ISO 6149-1 port
7 O-ring
Connector and adjustable stud ends have lower working pressure rating than nonadjustable stud ends. To achieve a higher pressure rating for an adjustable connector, a combination of straight stud connector and a swivel elbow connector can be used, see above fig shown.
The groove of Winner brand O-ring face seal is style A of ISO 8434-3 see below fig, this groove providing improved retention of O-ring, the O-ring will not drop out from the groove when turning connectors upside down.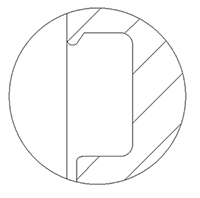 Leave Your Message
Write your message here and send it to us